Be Inspired to Get Organized
Inspired Craft Room Ideas
If you are a crafter or artist like me you'll find often that the crafting room is typically the hardest room to keep organized...at least for me it is anyway. I know I could use the inspiration for my work area. I'm determined to find some new ideas to get my office more organized and decided to share here as I come across them...even if some of these rooms would seem to far from what would be a reality for me but I do hope to bring some of the ideas to light to actually put to great use.

I have to say I do have a really nice office space but it's not always an ideal set up as crafting station and I find it difficult to keep it decluttered. Between all my crafts, graphic design, webdesign work, photography and jewelry making...there is never enough space or enough organization. I know I could spend weeks organizing my space and feel that it's never done. As much as I try to keep things picked up I'm always feeling a a bit cluttered. Easy to do as an artist and jewelry designer and having so many things all going on at once. Here's a start for some inspirations and when times allows I hope to be able to share some of my own befores and afters. In the mean time here are what others are doing in their space.
---

Infarrantlycreative.net breaks down how to make this table. Oh if I could only take over my husbands space in the basement this would the ideal table!
---
Source: www.unskinnyboppy.com
This space is just stunning. There are lots of areas to look for inspiration for organizing. Lots of items here from Ikea...it makes me want to go shopping there now. Very well done hope someday to get some wall mounts sigh...
---
Oh My FAVE color Aqua...what a LOVELY crafting room...I don't think I would ever care to leave this space.
Source: Scrapbook.com
---
For some reason the lyrics immediately come to mind as I hmmmm..."if I had a million dollars...If I had a million dollars". Haha...but this is one serious crafting room! I don't know what I'd do with all that space...yes I do! CREATE!
Source: Creations By Christie
---

Yes Please...I'll take all 9! 

Oh and I'll take this too!
Source: Lil Lucy Lu

COLOR!

This reminds me I need to work on my shelves!
Source: Southern Hospitality Blog
---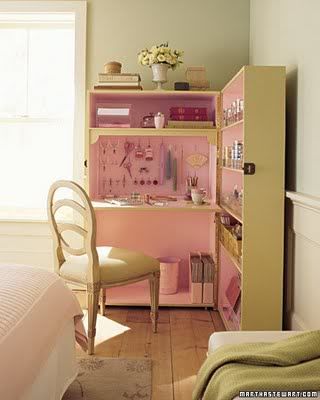 If space is ever the issue...here you have it and clutter quickly disappears. Very nice!
Source: suburbanbeats.net
---

I really want to know where to get the tiered stands. Also such creative use of ball jars!
I also couldn't find the original owners to be able to credit the source to with these.
---
 Here's a DIY creating your own basket:

I have countless Dipper and Baby Wipe Boxes...I will need to try this out soon!
Source: DIY Design Fanantic
---
Now that you're inspired to start organizing you'll need to start here with DIY baskets and containers of putting everything in. Lucky for you I've designated a page of inspirational tutorials of how to make your own baskets.
If you'd like feel free to share your place in the comments below!
Last modified onFriday, 13 September 2013 19:01
Graphic, Web and Jewelry Designer and Artist...I'm inspired by all things creative. When I started jewelry making as a side hobby over 5 years ago, I became obsessed with the the craft and everything about it. Design, colors, textures, details and technique. I now not only make pieces I enjoy to wear but have hand created thousands of pieces for people all over the world.
Thank you so much for taking some time to getting to know a lil about myself. I hope you've found something here you love or to inspire you!
Website: www.lilmisskaties.com