DIY Jewelry Inspired Ideas
So like many of you....I'm a Pinterest Fanatic and even though I've been away from making jewelry for so long now I still get an overwhelming sense of wanting to make something especially when I come across ideas on my Pinterest feeds. I thought why not share some of them here and possibly inspire others. A lot of them are actual DIY tutorials but other are ones I pinned that by looking at them I know I would be able to figure out how to assemble. Along with my other dozens of web domain names I've purchased that have been placed on the back burner the website domain...www.Care.Share.Wear.com was purchased with the idea of selling jewelry kits and creating tutorials. But unfortunately there just isn't enough hours in a day to make everything I think up to happen.
As with everything in my creative life I seem to jump limb to limb wanting to create everything that inspires me...in most cases immediately...always so implosive to get started and jump in on my ideas.  It's always been like that from when I was a child...even at my daughters age of 7...I literally had dozens of plastic bags that contained multiple craft projects from cross stitching, to weaving, to knitting to crochet, to sewing, to basket weaving...you name it it was in there...somewhere. I guess I took after my Grandfather - Far-Far which is Father's Father in Swedish which we called him. He always had a sewing or craft project in hand and his bible in the other. I remember when it was time to move him to a home he had hundreds of craft projects some started and some waiting to be rediscovered. All ones he had to pick from being that he was limited on space. I was excited that was able to to inherit some of his collection though. From what I did take with me...I had for years to come.
Anyhoo now that I've got my random side tracked story out of the way...I'll get back to the initial purpose of my post...inspired DIY Jewelry. I figured I would share with others that have a similar inspiration some of what I've come across over the past year. Sometimes it's these kind of photos that really get your passion back in to working orders again. Working with love of your craft. I don't know that I ever really lost that however...it was just circumstances in my life that caused it to come to a still. But as I can tell...I know that chapter in my life isn't over. Especially with the new retail shop underway I know I'll have a section of Lil Miss Katie's back up and running. A new turning point in my life with all new inspiration and creativity.
Now onto those inspired DIY Jewelry ideas...I hope these help inspire you as well.
---
Starting with this one...it just tickles me pink. It's so cute and dainty all in soft lovely colors I love. This is one that screamed make me right now! Not really sure How I even I prevented myself from going for it. I need to get me some of those bead ASAP! So lovely...I happen to have everything else I would need to make them.

Unfortunately there is no link that I can credit these bracelets to which is pretty common now with Pinterest I'm finding.
These are from an Etsy Shop. I love the combinations and even the green stone that she used...the gold just pops with the green. It's funny because I'm not normally a fan of this color for jewelry but she does a great making it work in my opinion.


You can find her shop here.
Here is one of my most absolute FAVORITE places to go for inspired jewelry creations. If you are new to this place be prepared to want to stay for a while and to be coming back. It's a beautiful blog and very well done.

Honestly WTF  >>> Catchy Name too! Click here to see this amazing tutorial.
 Here's another one from them....I just love them...how could you not?!


Here's the link of yet another fab tutorial from them.
Ok...so this isn't a tutorial these are the famous Puravida Bracelet collections. But Ohhh such a great source for inspiration. They are all sooooo lovely but will set you back a few bucks. Ouch for price factor but at the same time I completely understand because the amount of work involved making these pretties. However more the reason to want to make them yourself...time and cost of supplies are the only expense there.

Click here to see more of these beautiful collections.
Here's an MK bracelet that I absolutely adore the style of. Wouldn't mind having the real deal...but again price pinch point. Ouch. Not sure which factor makes me drool more...the style or the that it's MK. Probably both.


Here's the credited link.
Here are some earrings and made by and Etsy Dealer. So cute and original. Her craftsmanship is beautiful!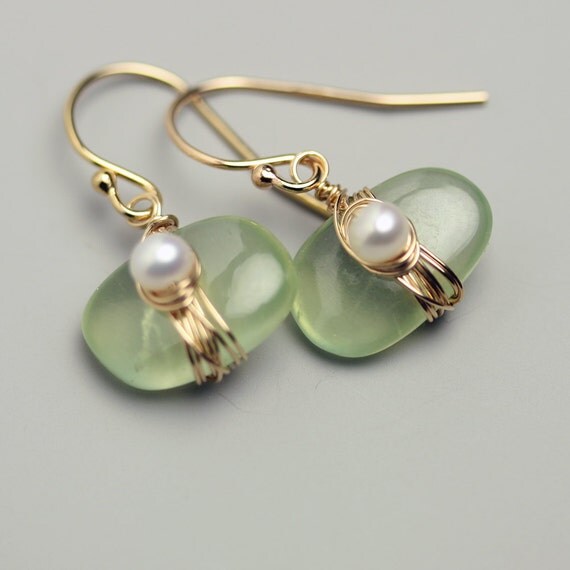 I believe these pretties are sold but you could always request her to make another or possibly try to make them yourself. Good luck on making them look just as she does!
Ohhh this necklace...I would wear this all the time. I keep telling myself I'm going to make me one like this...and it's yet to happen. I need to just go shopping for some new beads already!


Here's the link to this shop...it's very reasonable...which I might have to just go ahead and buy one for myself.
This one is serious...It's no longer available on Etsy so not sure how to credit but one I would love to add to my collection to wear for myself.


Here is the artist on Etsy even though it says it's no longer available.
Another great set of earrings! I know it may not be a doable set to be able to make for some but challange and testing your jewelry making abilities is always a must I say. Learn and grow and be better!


Here's the Etsy Shop!
Ok...I'm not a huge fan of bead choice but this bracelet just looks fun to make!

This one actually has several other tutorials combined with this one...this particular one is at the bottom.
 Here's another yes dainty beaded bracelet combo...you think I would have enough...but I just love the combination of these.


It's again an Etsy item that is showing no longer available but linked to the original shop creator.
Ok clearly showing off this set from my Pinterest board titled Fab Jewelry You Can Make...I have Boho on the mind. These to me are just simple, pretty and perfect for everyday summer wear. That's all I have for now but I'll as always be back to add on here. Again feel free to share your own Pinterest boards or link some of your favorite inspired jewelry pieces you'd love to make yourself.
As always...Stay inpired!
Last modified onMonday, 22 June 2015 16:38
Graphic, Web and Jewelry Designer and Artist...I'm inspired by all things creative. When I started jewelry making as a side hobby over 5 years ago, I became obsessed with the the craft and everything about it. Design, colors, textures, details and technique. I now not only make pieces I enjoy to wear but have hand created thousands of pieces for people all over the world.
Thank you so much for taking some time to getting to know a lil about myself. I hope you've found something here you love or to inspire you!
Website: www.lilmisskaties.com